Jason – overnight pump feeds
Tap above to play video
Featured in Jason & Liz's story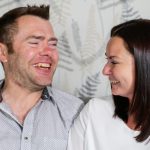 Jason – overnight pump feeds
"We were worried it would be really complicated, but now our little girls often help - it's child's play!"
- Liz
Jason is still able to eat, so for him having a feeding tube takes the stress out of mealtimes. He can eat what he fancies, without worrying if he's taking enough nutrition. Jason and Liz started off on bolus feeds, but with two very active little girls to look after, this was too time consuming for them.
They next tried pump feeding over several hours during the day, but this meant Jason's appetite for meals was really reduced. Therefore, moving his pump feeds to overnight has been the best solution for him. See Key Definitions for more explanation of these terms.
Having a feeding tube hasn't stopped Jason from going swimming weekly, nor has it stopped family holidays. They arrange with their supplier to have the feed and accessories delivered to the hotel before they arrive, even abroad!