Feeding methods explained
Tap above to play video
Featured in Sean – Dietitian's story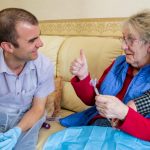 Feeding methods explained
Get to know the basics about tube feeding methods
This film offers an overview of some of the main feeding methods that are commonly used. It will help you to understand some of the options available, in order to find the best approach for you. Your Dietitian will work with you to adapt the feeding method into your own daily life.
You will not need to liquidise meals to give down the tube. There are special formulations of liquid feed that ensure you get the nutrients you need. There are many types of feed that can be prescribed, and your dietitian will advise what may be the best one for you.
In addition, you can keep yourself hydrated using the tube. You can use it top up your daily fluid intake if you are still drinking orally too. If you are no longer drinking, then it is very important to have extra water alongside your liquid feed to keep you well hydrated. Your Dietitian will advise you on this.
This film can help you understand more about some of the technical terms you may have heard by seeing them in practice in real people's homes. It is not intended as an instructional film but an introduction to some of the options available. You can also visit the Key definitions page to read some brief explanations of any new terms and words.