Liz's experiences of caring
Tap above to play video
Featured in Jason & Liz's story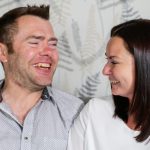 Liz's experiences of caring
"Mealtimes are important for us as a family, we all still sit around the table together"
- Liz
Liz, Jason's wife, talks about some of the ways she has supported Jason's nutrition. Before he had his feeding tube fitted, she quite often had to feed him, as his arm strength had reduced.  Since having the feeding tube fitted, a lot of their worries have been eased, as Jason gets his pump feed overnight and is still able to eat meals during the day.
Family mealtimes with his two daughters – Lilly and Poppy – are still key! Even if Jason doesn't feel like eating, they all make time for some dinnertime fun together.
Jason has a low profile (or button) feeding tube. Liz explains about the care specific to this type of feeding tube. If your local care team offers you one of these low profile feeding tubes, they will give you all the training and equipment needed to look after it.